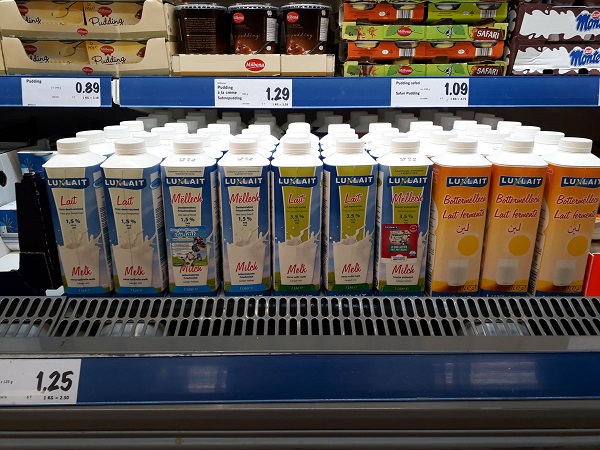 The Lidl supermarket chain will stock a range of 16 products from Luxait from Monday 26 February 2018.
The discount supermarket brand is strengthening both its sourcing from local suppliers as well as its offer/range of dairy products including, among others, fresh cheese, cream and butter. "Our ambition is to increase the sale of local products by 10% each year," stated a Lidl spokesperson.
Fresh Luxembourgish products
With 16 new dairy products, the retailer introduces a wide range of references from the Luxlait brand. This assortment is composed of in particular fresh cheese, fresh cream, fermented milk, shaker macchiato or Rose butter, meeting the demand of the Luxembourgish consumer to see more local products in store. "After the recent introduction of 8 beef references, we are reinforcing our Luxembourg offer with high quality natural milk products. Today, we present some forty Luxembourg references in stores and our ambition is to increase the sale of local products by 10% each year" explained Julien Wathieu, spokesman at Lidl.
Made in Luxembourg
To facilitate the shopping experience of its customers, Lidl has opted for easy identification of its Luxembourgish products in stores. For example, on the packaging and posters of some forty products, the Luxembourgish flag and the logo "Made in Luxembourg" are displayed; it is also found among others on wine, beer, water, beef and eggs.​