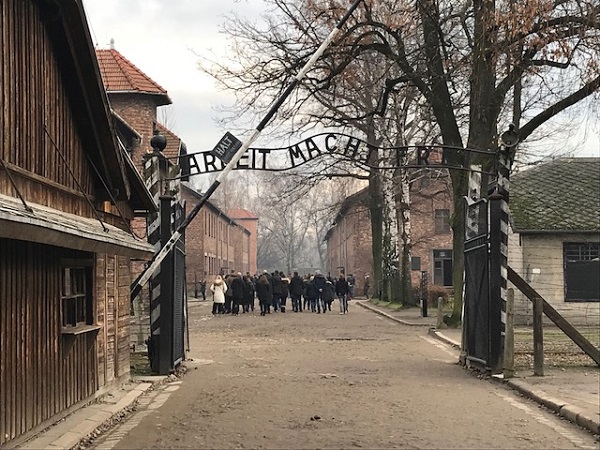 For the second time the Luxembourg City Film Festival will take part in the organisation of the International Holocaust Remembrance Day, in association with the Ministry of National Educations, Children and Youth, SCRIPT (Éducation culturelle), Fondation Zentrum fir politesch Bildung.
The aim of Remembrance Day is to keep the memory of the Holocaust alive and to inform young people about the dangers of intolerance, racial hatred and ignorance. The organised activities are supposed to raise young students' awareness for often subconscious prejudices, stereotypes and violence towards others, and to abolish them. They are motivated to initiate and support steps towards social cohesion, and to actively participate in the building of a better and fairer world.
In the context of the International Holocaust Remembrance Day 2018, two films will be shown: "Wiedersehen mit Brundbibár" (2014) by Douglas Wolfsperger and "#uploading_holocaust" (2016) by Sagi Bornstein and Udi Nir, the latter shown in an additional public screening at the Cinémathèque de la Ville de Luxembourg on Thursday 25 January 2018 at 18:30.
#UPLOADING_HOLOCAUST
Every year, 30,000 Israeli students go on a very special school trip: The "Journey to Poland" takes them to former concentration camps, mass graves, ghettos and memorials. They capture their experiences in YouTube videos, immortalising the collective trauma and thus allowing for a moving insight into the history of Jews in Europe. "#uploading_holocaust" curates thousands of those videos, offering the unique point of view of a new generation and revealing a touching and troubling image of the way collective memory is formed in the age of social media.
WIEDERSEHEN MIT BRUNDIBÁR
Director Douglas Wolfsperger follows the youth theatre ensemble of the Schaubühne in Berlin during their rehearsals for a new play, "Brundibár", a historical children's opera surrounded by tragedy and a moving story. The play was first performed in 1942 in the Theresienstadt concentration camp where imprisoned children were made to appear in it over 55 times. When the young actors of today travel to Theresienstadt accompanied by Greta Klingsberg, one of the few surviving members of the original cast, they reconnect with the true roots of the story. Soon they realise that there is more that unites them as a group than sets them apart.