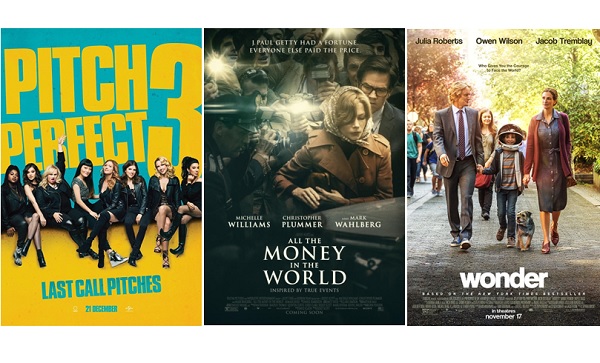 Kinepolis Luxembourg is now showing the following films from Wednesday 27 December at its cinemas in Luxemourg, including Kinepolis Kircherg, Kinepolis Belval and Ciné Utopia.
- Pitch Perfect 3 (comedy, music), directed by Trish Sie and starring Anna Kendrick, Rebel Wilson, Brittany Snow. Synopsis: After the highs of winning the World Championships, the Bellas find themselves split apart and discovering there aren't job prospects for making music with your mouth. But when they get the chance to reunite for an overseas USO tour, this group of awesome nerds will come together to make some music, and some questionable decisions, one last time. At Kinepolis Kircherg, Kinepolis Belval
- All the Money in the World (crime drama), directed by Ridley Scott and starring Michelle Williams, Christopher Plummer, Mark Wahlberg. Synopsis: The story of the kidnapping of 16-year-old John Paul Getty III and the desperate attempt by his devoted mother to convince his billionaire grandfather Jean Paul Getty to pay the ransom. At Kinepolis Kircherg, Kinepolis Belval
- Wonder (drama), directed by Stephen Chbosky and starring Jacob Tremblay, Owen Wilson, Izabela Vidovic. Synopsis: Based on the New York Times bestseller, WONDER tells the incredibly inspiring and heartwarming story of August Pullman, a boy with facial differences who enters fifth grade, attending a mainstream elementary school for the first time. At Kinepolis Kircherg, Kinepolis Belval
Next week, i.e. from Wednesday 3 January 2018, the following films are scheduled for release:
- Molly's Game (biopic, drama), directed by Aaron Sorkin and starring Jessica Chastain, Idris Elba, Kevin Costner, Julia Roberts. Synopsis: The true story of Molly Bloom, an Olympic-class skier who ran the world's most exclusive high-stakes poker game and became an FBI target. Set for Ciné Utopia, Kinepolis Kircherg
- The Leisure Seeker, directed by Paolo Virzì and starring Donald Sutherland, Helen Mirren, Kirsty Mitchell. Snopsis: A runaway couple go on an unforgettable journey in the faithful old RV they call The Leisure Seeker, traveling from Boston to The Ernest Hemingway Home in Key West. They recapture their passion for life and their love for each other on a road trip that provides revelation and surprise right up to the very end. Set for Ciné Utopia.
- Burn Out (Action, Thriller), directed by Yann Gozlan and starring François Civil, Manon Azem, Olivier Rabourdin. Synopsis: Head burned, addicted to thrills, Tony lives for one thing: become a professional motorcycle super-bike driver. Until the day he discovers that his son's mother is linked to the gypsy underworld. The only way out of this gear: put his talents at the service of mobsters. Circuit driver during the day, go-faster at night, Tony is plunged into an infernal spiral that leads him to the brink of rupture. Set for Kinepolis Kircherg
- The Greatest Showman (drama, music), directed by Michael Gracey and starring Hugh Jackman, Michelle Williams, Zac Efron. Synopsis: Inspired by the imagination of P.T. Barnum, The Greatest Showman is an original musical that celebrates the birth of show business and tells of a visionary who rose from nothing to create a spectacle that became a worldwide sensation. Set for Kinepolis Kircherg, Kinepolis Belval