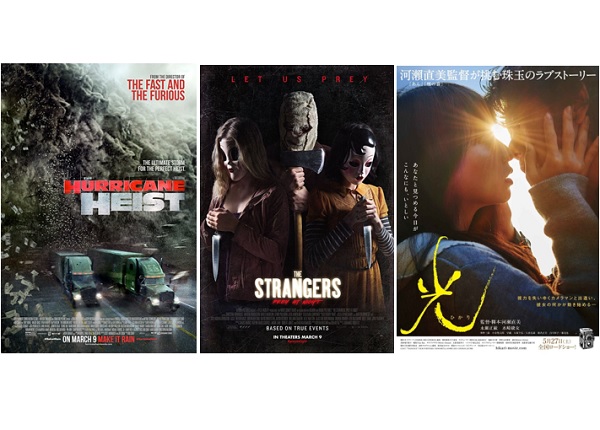 From this Wednesday 7 March 2018, Kinepolis Luxembourg will be showing the following film at its cinemas in Luxembourg, including Kinepolis Kircherg, Kinepolis Belval and Ciné Utopia.
- Hurricane Heist (thriller), directed by Rob Cohen and starring Toby Kebbell, Maggie Grace, Ryan Kwanten. Synopsis: Thieves attempt a massive heist against the U.S. Treasury as a Category 5 hurricane approaches one of its Mint facilities. At Kinepolis Kircherg
- Strangers: Prey at Night (horror), directed by Johannes Roberts and starring Christina Hendricks, Bailee Madison, Martin Henderson. Synopsis: A family's road trip takes a dangerous turn when they arrive at a secluded mobile home park to stay with some relatives and find it mysteriously deserted. Under the cover of darkness, three masked psychopaths pay them a visit to test the family's every limit as they struggle to survive. At Kinepolis Kircherg, Kinepolis Belval.
- Radiance / Vers la Lumiere (drama, romance; in Japanese), directed by Naomi Kawase and starring Masatoshi Nagase, Ayame Misaki, Tatsuya Fuji. Synopsis: A passionate writer of film versions for the visually impaired meets an older photographer who is slowly losing his eyesight. At Ciné Utopia.​
Next week, i.e. from Wednesday 14 March 2018, the following films are scheduled for release:
- Tomb Raider (action adventure), directed by Roar Uthaug and starring Alicia Vikander, Hannah John-Kamen, Walton Goggins. Synopsis: Lara Croft, the fiercely independent daughter of a missing adventurer, must push herself beyond her limits when she finds herself on the island where her father disappeared. At Kinepolis Kircherg, Kinepolis Belval.
- Earth, One Amazing Day (documentary), directed by Richard Dale and Lixin Fan. Synopsis: From BBC Earth Films, the studio that brought you Earth, comes the sequel - Earth: One Amazing Day, an astonishing journey revealing the awesome power of the natural world. Over the course of one single day, we track the sun from the highest mountains to the remotest islands to exotic jungles. Breakthroughs in filmmaking technology bring you up close with a cast of unforgettable characters. Told with humour, intimacy and a jaw-dropping sense of cinematic splendour, Earth: One Amazing Day highlights how every day is filled with more wonders than you can possibly imagine- until now. At Kinepolis Kircherg, Kinepolis Belval.
- Hannah (drama), directed by Andrea Pallaoro and starring Charlotte Rampling, André Wilms, Stéphanie Van Vyve. Synopsis: Intimate portrait of a woman drifting between reality and denial when she is left alone to grapple with the consequences of her husband's imprisonment. At Ciné Utopia.​​