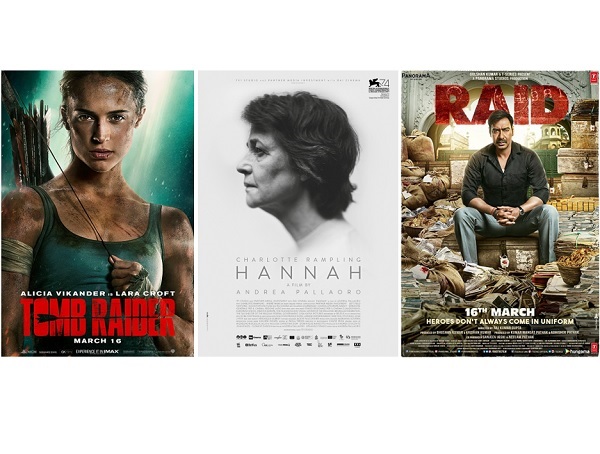 From this Wednesday 14 March 2018, Kinepolis Luxembourg will be showing the following film at its cinemas in Luxembourg, including Kinepolis Kircherg, Kinepolis Belval and Ciné Utopia.
- Tomb Raider (action adventure), directed by Roar Uthaug and starring Alicia Vikander, Hannah John-Kamen, Walton Goggins. Synopsis: Lara Croft, the fiercely independent daughter of a missing adventurer, must push herself beyond her limits when she finds herself on the island where her father disappeared. At Kinepolis Kircherg, Kinepolis Belval.
- Raid (crime drama, in Hindi with EN sub-titles), directed by Raj Kumar Gupta and starring Ajay Devgn, Saurabh Shukla, Ileana D'Cruz. Synopsis: Based on real events, Raid revolves around Amay Patnaik, a fearless Income Tax officer who carries out a non-stop raid at the mansion of Tauji, the most powerful man in Lucknow. At Kinepolis Belval.
- Hannah (drama), directed by Andrea Pallaoro and starring Charlotte Rampling, André Wilms, Stéphanie Van Vyve. Synopsis: Intimate portrait of a woman drifting between reality and denial when she is left alone to grapple with the consequences of her husband's imprisonment. At Ciné Utopia.​​
Next week, i.e. from Wednesday 21 March 2018, the following films are scheduled for release:
- Pacific Rim Uprising (action adventure), directed by Steven S. DeKnight and starring Scott Eastwood, Adria Arjona, Tian Jing. Synopsis: Jake Pentecost, son of Stacker Pentecost, reunites with Mako Mori to lead a new generation of Jaeger pilots, including rival Lambert and 15-year-old hacker Amara, against a new Kaiju threat. At Kinepolis Kircherg, Kinepolis Belval.
- God's Own Country (drama), directed by Francis Lee and starring Josh O'Connor, Alec Secareanu, Gemma Jones. Synopsis: Spring. Yorkshire. Young farmer Johnny Saxby numbs his daily frustrations with binge drinking and casual sex, until the arrival of a Romanian migrant worker for lambing season ignites an intense relationship that sets Johnny on a new path. At Ciné Utopia.​