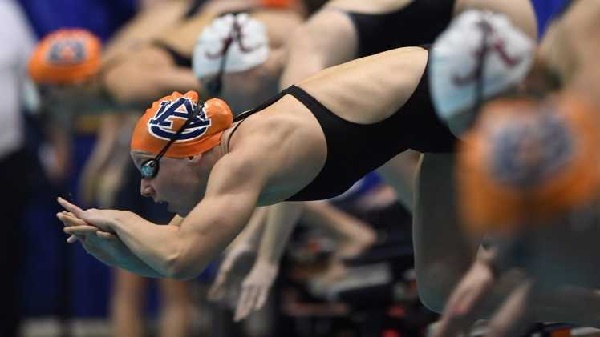 Credit: FLNS
Luxembourg swimmer Julie Meynen put on an impressive performance at the Georgia Tech Invitational Meet from 16 to 18 November 2017.
Coming in second place in the 100 yards freestyle and achieving victory in the 4x100 yard freestyle relay, the 20-year-old contributed important points to the victory of the "Auburn Tigers Swimming Team" at the Southeastern Conference.
As start-up swimmer of the squadron, the sprinter swam a new personal best in 47.61 seconds and thus already undercut the A-norm for the NCAA championships in March in Ohio. Team mates Erin Falconer, Ashton Ellzey and Aly Tetzloff brought the quartet to the finish in 3:13.88 minutes, setting a new season record for US teams.
Julie's performance of 47.61 seconds is the second-fastest ever swum time of an "Auburn Tigers" and ranks fifth among US college teams.
In the following weeks, there will be further Southeastern Conference competitions and school examinations that will prevent Julie from taking part in the European Short Track Championships in Copenhagen (13-17 December). She will next compete in front of a Luxembourgish crowd at the anniversary edition of the 20th Euro Meet from 26-28 January 2018.