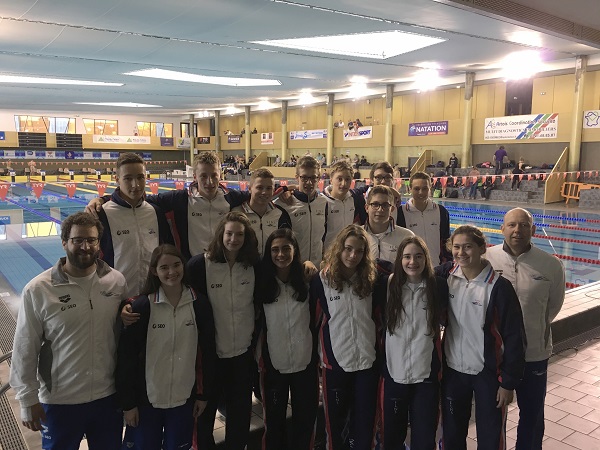 FLNS youth squad at Bethune;
This past week-end, a Luxembourg junior swimming squad returned from Bethune (near Lens in France) with a haul of 24 medals - 8 gold, 6 silver and 10 bronze; in addition, the squad took away no less than 27 personal best times, from the 10th International Meet in Bethune.
Among the men, Jacques Schmitz won two gold and one silver medal and was awarded a special prize for the best performance (200m freestyle in 1:57.61) in the 15-16 age group at the end of the event. With this time, the 15-year-old approached to within 1.16 seconds of the standard time for the European Junior Championship being held from 4 to 8 June in Helsinki.
In the same age range, Joao Carneiro won the 50m, 100m and 200m breaststroke and finished third in the 50m, 100m and 200m butterfly, setting six new personal bests in the process.
Among the juniors, Ricky Rolko won the gold medal over the 50m and 200m breaststroke, silver over 100m and bronze over 200m breaststroke. Jules Schmitz won bronze over 50m and 100m butterfly.
In the women's category, Emma Peters won the 50m butterfly gold medal and finished second overall in the 50m, 100m and 200m freestyle and third in the 100m butterfly category. Maiti Faber swam over 50m, 100m and 200m backstroke to win bronze, Rachael Black obtained silver over the 200m backstroke.
"Our athletes presented themselves in good shape, set many best times and thus laid the foundation for the second half of the season," summarised Christian Hansmann, Technical Director of the FLNS, the Luxembourg Swimming Federation, regarding the results of Bethune.
The Bethune FLNS team: Joël Meyer (CNW), Felix Beckers (SCDE), Ralph Daleiden-Ciufferi (SCD), Joao Carneiro, Pol Mannes, Rickard Rolko R. (all SL), Jacques and Jules Schmitz (SCR), Maiti Faber M. (SCDE), Laura Vanderschrick (SL), Rachael and Sarah Black, Emma Peters (all CNDu), Yaël Hamen-Saieg Y. (CNDie)