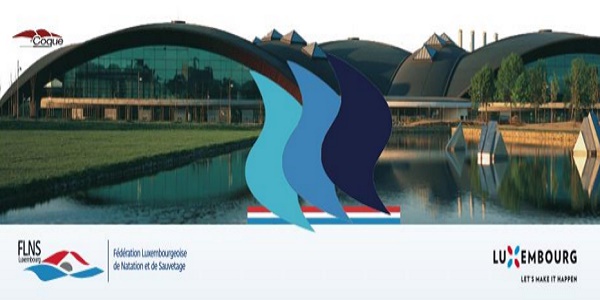 The Fédération Luxembourgeoise de Natation et de Sauvetage (FLNS) have released the names of all swimmers who will appear at D'Coque this coming week-end at the Euro-Meet international swimming gala.
The leaders of the locals are Raphael Stacchiotti, Julien Henx and Monique Olivier, well known heroes of the Games of the Small States of Europe (GSSE). At the last edition in June 2017 in San Marino, Stacchiotti won a total of 7 gold medals and 2 silver, for a massive overall total at these Games from 2007 to 2017 of 41 medals, including 32 gold. At the 2017 World Championships in Budapest, he finished 23rd of the 200m medley.
Julien Henx could also secure 6 GSSE gold in San Marino, for an overall total of 15 medals, 14 gold. Julien's most recent feat arose during the December 2017 « World Military Games » (CISM) when he broke twice his own long course national record over 50m butterfly, lowering it to 24.10.
At the world championships this past summer, Monique Olivier finished 22nd in the 400m freestyle and competed also in the 800m where she managed the 25th best time during the heats.
On the men's side, unfortunately Pit Brandenburger and Ralph Daleiden-Ciuferri will not start, due to illness, as well as the best Luxembourgish Sprinter Julie Meynen.
Beside those Elite Swimmers, many promising youngsters will represent the colours of Luxembourg at the Euro Meet, including Bob Sauber, Yann Van Den Bossche, Jacques Schmitz, Rèmi Fabiani, Stephan Vanderschrick, Jacqueline Banky, Maria Perez-Garcia, Yael Hamen-Saieg and Emma Peters.
The FLNS – Euro Meet Team 2018 team in view of the European Championships next August in Glasgow is therefore: Monique Olivier, Maria Perez-Garcia, Jacqueline Banky, Yael Hamen-Saieg, Emma Peters, Rachael and Sarah Black, Maiti Faber, Chanel Fabiani, Alicia Turmel, Laura Vanderschrick Felix Beckers, Joao Carneiro, Rémi Fabiani, Julien Henx, Max Mannes, Pol Mannes, Joel Meyer, Ricky Rolko, Bob Sauber, Jacques Schmitz, Jules Schmitz, Raphael Stacchiotti, Yann Van Den Bossche, Stephan Vanderschrick, Florian Waltzing.