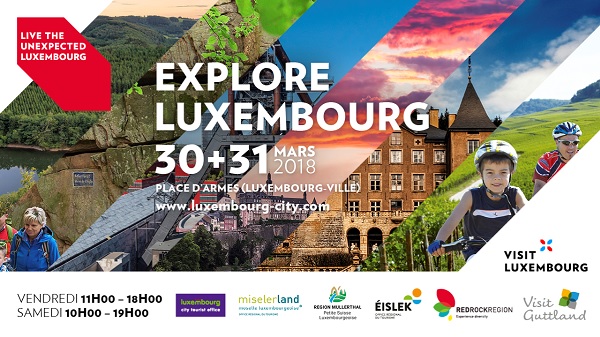 The Luxembourg City Tourist Office, in cooperation with the Regional Tourist Offices (ORTs) throughout the Grand Duchy, is inviting the public to come and discover the array of tourist and cultural offerings in Luxembourg on Friday 30 and Saturday 31 March on Place d'Armes in Luxcembourg city centre.
- Fri 30 March 2018, from 11:00 to 18:00
- Sat 31 March 2018, from 10:00 to 19:00
During the Easter weekend, the city centre of the capital will be transformed into a "Tourist hub of the Grand Duchy" with a programme featuring tourist information, entertainment for all ages, concerts and presentation of local products.
The Luxembourg City Tourist Office and the Regional Tourist Offices welcome visitors with updates about their most recent programmes for 2018. Visitors will be able to discover the diversity of the regions of the Grand Duchy with its many attractions and sites just waiting to be explored.
The duos Erni Delosch and Änder Hirtt, Yannchen Hoffmann and Carlo Hartmann, Jeannot and Rol, the Pol Milbert orchestra, the City Brass quintet, the Singers Unlimited, the group Murphy's Law and the La Ronde folk group will represent the musical Grand Duchy.
For details, see www.luxembourg-city.com