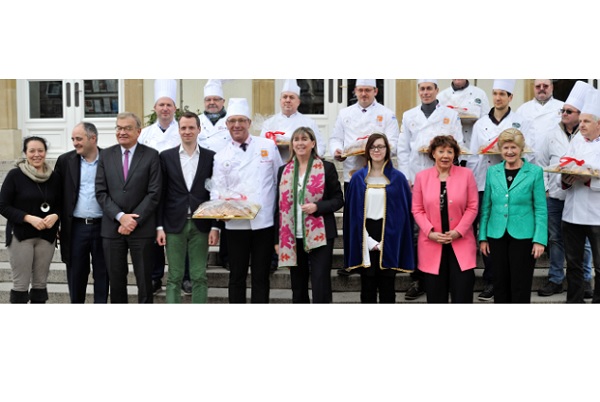 The Federation of Bakers and Pastry Makers offers a pretzel to Luxembourg City's Mayor and Aldermen; Credit: Photothèque de la Ville de Luxembourg / Eric Jaerling
According to tradition, young men offer a pretzel to the person of their heart on "Bretzelsonndeg" (Pretzel Sunday), celebrated this year on 11 March; if the girl responds to the suitor's feelings, she offers him an Easter egg in return three weeks later, on Easter Sunday.
A few days in advance, on Tuesday 6 March 2018, the Federation of Bakers and Pastry Chefs in Luxembourg offered a pretzel to the Mayor and Aldermen of the Ville de Luxembourg.
This is a great opportunity to highlight this old tradition and the profession of the baker-pastry chef that is so important in our everyday life.​