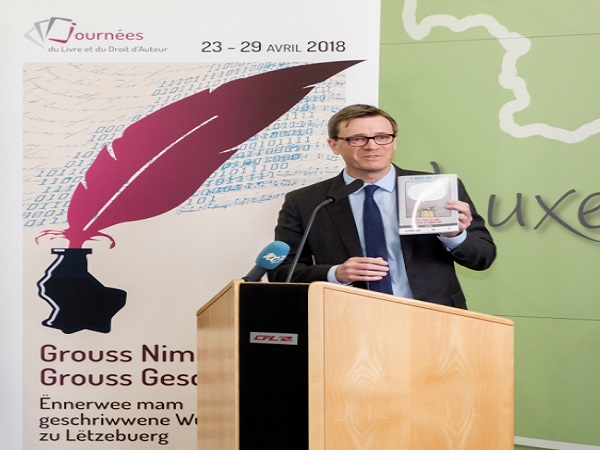 Marc Wengler, CFL Managing Director; Credit: CFL
The official programme for the 2018 edition of the Book and Copyright Days, taking place from 23-29 April, was presented at the Luxembourg City train station yesterday.
The presentation was held inside the station in partnership with the Luxembourg Railways (CFL), which together with the Initiativ Freed um Liesen ASBL are co-organising the annual distribution of the book "E Buch am Zuch - En train de lire - Lesen in einem Zug". The 20th edition of the volume is devoted to the theme of politics in Luxembourgish literature and will be distributed on 23 April in several stations across the country.
The anniversary of the death of two great writers, William Shakespeare and Miguel de Cervantes, on 23 April was chosen in 1995 by the UNESCO General Conference as a symbolic date to pay a worldwide tribute to the book and its authors.
The 2018 edition will take place from Monday 23 to Sunday 29 April and will be organised around the theme "Grouss Nimm - Grouss Geschichten: enerwee mam geschriwwene Wuert zu Lëtzebuerg" ("Great names, great stories. The way to the written word in Luxembourg"). This edition is part of the European Year of Cultural Heritage and commits to highlight the richness of the national and European heritage.
From the legendary Mélusine to Robert Schuman via Joseph Bech, Aline Mayrisch, Batty Weber, Lou Koster and Eduard Steichen, the political and cultural history of Luxembourg has been forged by outstanding personalities. The public is invited to discover Luxembourg through these men and women, their commitments, their words and ideas put on paper. It will also be an opportunity to look beyond the official biographies, to become familiar with the private person, the human destiny and the intimate narrative behind these stories.
For seven days, multiple activities and events will be offered to the public as well as school classes. The complete programme is available on the website: www.liesen.lu.