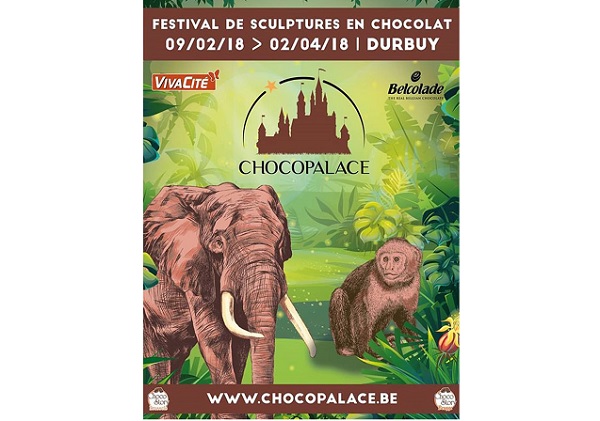 $The Festival of Chocolate Sculptures (Chocopalace) is being held in Durbuy, Belgium (Parc Roi Baudouin) from Friday 9 February to 2 April 2018 with the theme "The jungle and all its animals".
This unique event described as a world exclusive has caught the imagination of the public with already 10,000+ tickets sold in pre-sale.
More than 4 tons of chocolate will arrive in the Belgian towm which is located 105km from Luxembourg city centre, in the Ardennes south of Liège and east of Namur. More than 40 chocolatiers were needed over the past 6 months to prepare this exhibition of chocolate sculptures, some of which measure more than 3m in height.
"This is a project that we dreamed and realised with a motivated and dedicated team," proclaimed Raphaël Warny, organiser and head of PLG. "It's also a good opportunity to discover or rediscover Durbuy through all the shops and restaurants that this town offers."
More than 50 chocolate animals of all sizes will be found in the centre of Durbuy in two huge marquees. A didactic exhibition proposed by ChocoStory will also be accessible to all visitors, together with tastings, exhibition stands and a Chocobar; also, tasting of delicious hot chocolate and many specialty coffees.
Chocopalace is also organising chocolate workshops for children from 3 to 12 years old and even for older children.
All information, including ticketing (€12/person; €8 for 3-12 year-olds) on www.chocopalace.be - until 8 February a promotion offers a free ticket with every ticket purchased.​