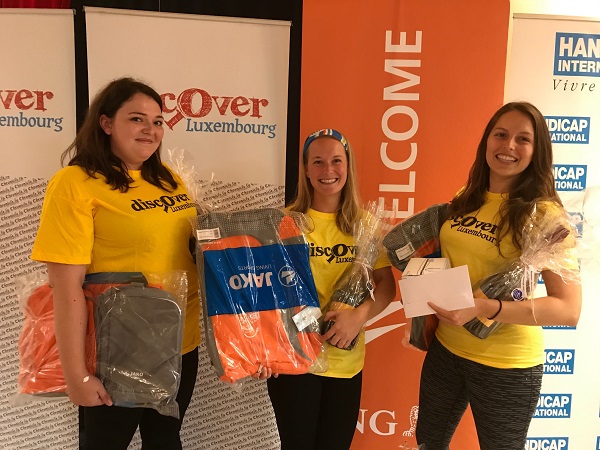 The Young Internationals;
On Saturday 9 September 2017, The Young Internationals were the top-scoring team with 945 points to pip the Penguins by just 5 points to win the 10th annual Discover Luxembourg event held across Luxemourg city.
With 42 teams registering to participate, they turned up at the Place Guillaume II in Luxembourg city centre to collect their competitors' t-shirts (white this year, with the logo of the Event Partner - ING Luxembourg - emblazoned on the back) and their directions, before they set off along the route - choosing bbetween 7km or 10km.
Along the way they could win points by answering 10 observation questios, taking 10 selfies and posting them on socil media, and taking part in 8 separate challenges, courtesy of LEO/Enovos, Vodafone, ING Luxembourg, Natur&emwelt, Luxlait, the ACL and Chronicle.lu - a mixture of quizzes, games and teamwork, all the time discovering something new about the city of Luxembourg - along the lines of culture, history, technology and gastronomy.
The route took the teams across the city to the Parc Pescatore, down the lift to Pfaffenthal and across to Clausen where they explored the Parc Mansfeld, before returning along the river Alzette to the Grund and up the elevator to the old city, and finishing up at the Centre Altrimenti.
Thanks to the genorosity of sponsors, circa 20 teams won prizes, with the top points winners also getting to wear the coveted Maillot Jaune. Villeroy&Boch had a nice surprise for all the teams that finished the course, and the organisers ran a free bar for all competitors on the occasion of reaching the 10th anniversary.
Visual Online, Eukelele, Kinepolis, Cactus, Ramborn and Chronicle.lu also donated prizes, and 27 students from the ISL volunteered throughout the day.
This year's charity supported was Handicap International.