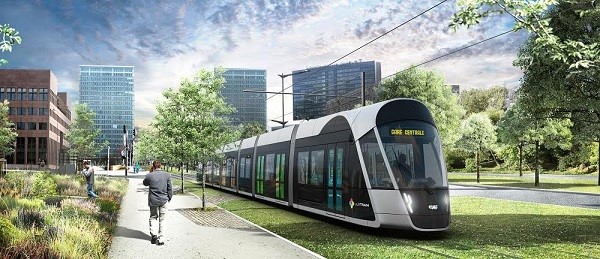 Luxembourg's Minister for Sustainable Development and Infrastructure, François Bausch, the Mayor of Luxembourg city, Lydie Polfer, and representatives of Luxtram S.A. this afternoon presented the new design for Luxembourg's tram network which will be launched in 2017.
At a press conference held at the Ministère du Développement Durables et des Infrastructures, City Mayor Lydie Polfer introduced the various contributors to Luxembourg's future tramway, including designer Eric Rhinn and CAF (Construccionnes y Auxiliar de Ferrocarriles) representative, Antonio Campos.
"Luxembourg City is impatient to see the tramway project realised on its territory," said Polfer. "Thanks to the design, which is both modern and refined, and new energy storage technology, which allows it to circulate without the need for contact with aerial lines, the tramway will integrate perfectly into the fabric of the city whilst preserving both its historical and contemporary architecture."
The infrastructure of the tramway will be provided by Spanish manufacturer CAF, which has contributed to projects in many European and international cities, including Stockholm, Birmingham, Nantes, Zaragoza and Besançon. The chosen design model was selected from the URBOS™ range, with specific criteria in mind: accessibility, modernity, regularity, comfort and the environment.
"Our vision for the development of the country is reflected in the design of our tram," stated Minister Bausch, who later showed a computer simulation of the trams circulating between stops such as LuxExpo and Place de l'Etoile. "We wanted it to be imbued with a beautiful modernity, able to blend into every area of the capital, welcoming the largest possible number of passengers. The presentation of this design is a key step in the conception of our tramway project which aims to benefit all future users of public transport."
CAF Representative Campos explained that the tramway aims to tackle traffic problems in the city whilst remaining eco-friendly, running solely on electricity and therefore not emitting any pollutants (at source). The trams will also provide a more environmentally-conscious solution to current public transport due to their size and the subsequent considerable amount of passengers they can carry.
"With a length of 45 metres and 8 double doors on either side, each train will be able to accommodate up to 450 passengers," affirmed the President of Luxtram, René Biwer. "With a train running every three to six minutes, according to need and demand, the tram system will be capable of transporting up to 10,000 people hourly."
As well as the capacity, the accessibility of the vehicles has also been carefully developed, and will reportedly contain a width of 2.65 metres as well as an air-conditioned carriages. "It will be ideal for people with restricted mobility and pushchairs," added Biwer.
2015 will mark the beginning of work on the Tramsschapp (close to LuxExpo in Kirchberg), with recruitment expected for 2016 and 2017 representing the delivery of the first tram and initial trials thereof.
"The training of our drivers will begin in the next few months," reported Directeur Général of Luxtram, André von der Marck. "From the end of this year, we will be hiring four training staff who have trained in a tramway network in Europe because it's a large European city. Once these four trainers are chosen, they will be training in the second semester of 2016, so a little over a year, the forty drivers that will be operating the tramway. The recruitment process will take place throughout 2016, to find these forty transit workers who will not just have to, but enjoy, piloting these machines that you have seen today."
Luxtram S.A. also unveiled the company's new logo, which aims to reflect its transition in October 2014 to a public limited company providing the study and development of Luxembourg's tramline. The new logo is made up several brightly-coloured 'pins' which together form a flower, and will be worn by all personnel involved in the operation of Luxembourg's tram network from 2017.
Top Photo By LuxTram (New Tram Design)
Bottom Photo By Sarah Graham (L-R: René Biwer, President of Luxtram; Sam Tanson, Première échevine de la Ville de Luxembourg ; Lydie Polfer, Bourgmestre de la Ville de Luxembourg ; François Bausch, Ministre du Développement Durable et des Infrastructures; Antonio Campos, CAF Representative; André von der Marck, Luxtram Representative)