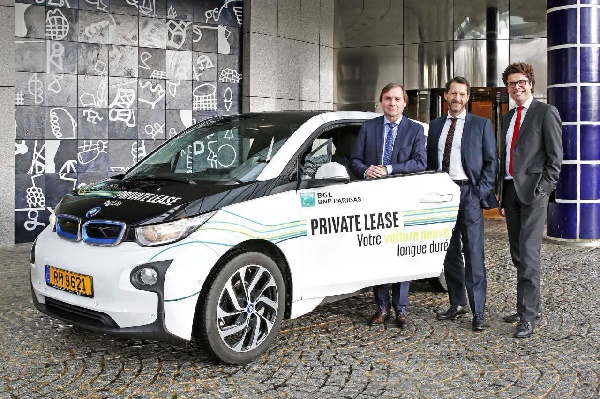 L-R: Roby Thill, Retail Banking Director, BGL BNP Paribas; Gerry Wagner, Managing Director of Arval Luxembourg; Corentin Dubucq, Marketing and Corporate Strategy Director, BGL BNP Paribas; Credit: BGL BNP Paribas
On the occasion of Autofestival, BGL BNP Paribas, in partnership with Arval, has launched a new Private Lease service.
BGL BNP Paribas is the first bank in Luxembourg to launch a long-term car rental offer. Called "Private Lease", this new offer is intended for individuals residing in the Grand Duchy and has been developed in close collaboration with Arval Luxembourg.
The Private Lease represents an alternative to the purchase of a car and offers the customer the opportunity to drive in a new vehicle of their choice, controlling their budget and without worrying about unexpected costs. In addition to financing, maintenance, tyre replacement, taxes, insurance and breakdown assistance are included in a fixed monthly rent. This "all-inclusive" deal will be available from the beginning of the Autofestival in all BGL BNP Paribas branches.
For the development of this offer, BGL BNP Paribas benefited from the experience and expertise of Arval Luxembourg, a reference partner in the corporate vehicle leasing market. Arval Luxembourg is part of the BNP Paribas Group and has been present in Luxembourg since 1997.