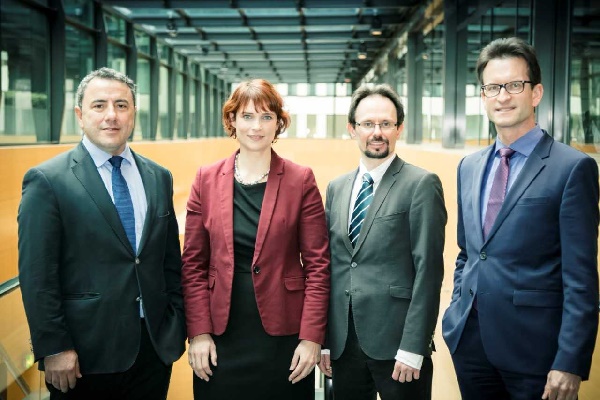 New C4L Team; Credit: Cluster for Logistics
Mélanie Laidié has joined the Cluster for Logistics asbl (C4L) as Deputy Cluster Manager as of 15 January 2018 to assist the Management in its education- and innovation-related projects.
A graduate of a Master in International Business Management, Mélanie has 14 years of professional experience and has held various positions in a large international industrial group where she was in charge of logistics and supply-chain projects for the regions of Europe, the Middle East and Africa (EMEA) before spending three years in sales and marketing.
Created after the crisis in 2009 under the impetus of the Ministry of Economy and the Chamber of Commerce, the Cluster for Logistics Luxembourg brings together, within its Board of Directors, institutions active in the development of the industrial and logistics sectors, as well as representatives of important operators from different modes of transport and sectors of activity.
The Cluster's mission is to serve, represent and promote the Luxembourg logistics sector and assist its members in innovation and competitiveness. The Cluster is a private network funded by its members, and by the activities sponsored by actors and public authorities as well as its founding members, including the Chamber of Commerce. The hundred or so members of the Cluster for Logistics regularly participate in the working groups, other networking events and the many conferences and debates organised by the association.
In addition to the team's reinforcement, the Cluster for Logistics is acquiring a new dynamic visual identity, in line with Nation Branding with the signature "Adding value is the key" which refers to the sector's objective to create added value.
The new C4L team will use all means to strengthen their representation in a growing number of projects in collaboration with ministries and private actors. The Lean and Green project will finalise its 3rd edition with a certificates ceremony by the Secretary of State Camille Gira on 6 February in Brussels, within the framework of the Benelux secretariat. This will be combined with a congress on sustainable logistics with Belgium and the Netherlands.