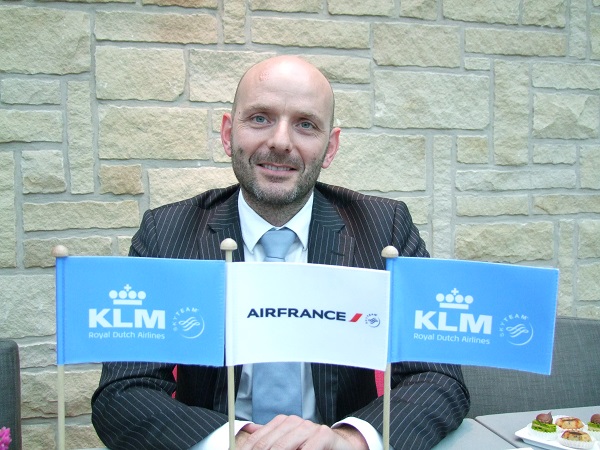 Boris Darceaux, General Manager at the BeLux regional office of AirFrance-KLM in Brussels was in Luxembourg on Thursday to meet with corporate customers and present details of how the airlines will be serving the Luxembourg market going forward.
At present, AirFrance flies to Paris Charles de Gaulle (codesharing with Luxair) and KLM flies to Schipol Amsterdam, both offering connections to long-haul and other medium-haul destinations within their respective networks and through those hubs.
For Luxembourg the main news is that capacity is increasing on their flights to/from the Grand Duchy by utilising larger aircraft.
KLM operates 3 flights/day now to Schipol with an evolution from Fokker 70 (72 seats) to Embrarer 90 (100 seats) aircraft. For AirFrance, it operates 3 flights/day to Paris (on Luxair-operated aircraft) with the aircraft there evolving from from Embraer 145 (50 seats) to Bombardier Q400 (76 seats) aircraft.
He also said that the AirFrance 44 Boeing 777 jets are being completely refitted at a cost of €500 million. And KLM will be taking delivery of three Dreamliners over the coming months.
He considers the Luxembourg market very interesting and is looking for a way to satisfy the need of this community with positive operational results, with positive fleet availability.
Photo by Geoff Thompson: Boris Darceaux, AirFrance-KLM