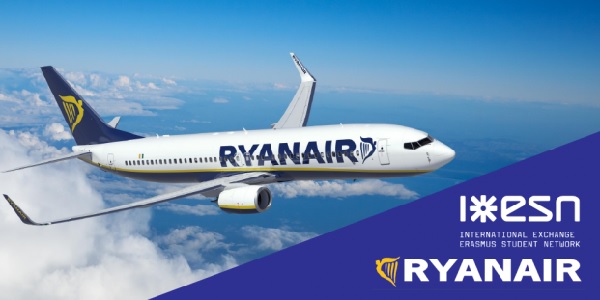 Airline Ryanair has launched a new dedicated booking platform in partnership with Erasmus Student Network (ESN), offering Erasmus students fare discounts and other travel benefits.
On 17 August 2017, Ryanair launched the new ESN platform for Erasmus students as part of the airline's four-year "Always Getting Better" programme.
The partnership offers Erasmus students a dedicated ESN booking platform where they can avail of a range of benefits, from 15% flight discounts on the Ryanair.com website to one free checked-in bag with every flight booked.
Other travel benefits on offer include weekly travel offers to enable Erasmus students to move more easily across Europe, and tailored Ryanair in-journey offers on the mobile app. Moreover, a new community forum to share travel hints and tips is set to launch soon.
Photo from ESN