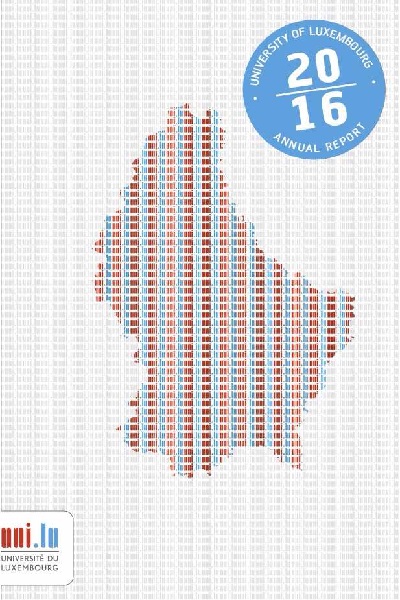 The University of Luxembourg has shown positive results in the fields of teaching and research in its 2016 Annual Report.
The university's first external research evaluation dominated 2016 with the result of nine of the 13 research units and centres being rated as international leaders. The University of Luxembourg also increased third-party funding raised for its research projects from approximately €41 million to €43 million in 2016.
Furthermore, last year, two of the university's researchers, the physicist Dr. Massimiliano Esposito and the ICT specialist Prof. Lionel Briand, having each received multi-million research grants (ERC grants) from the European Research Council. The university has also climbed further up the Times Higher Education World University Ranking and now ranks 178 out of the close to 800 universities.
2016 was also shaped by new projects and initiatives at the university, including the incorporation of the former "Centre Virtuel de la Connaissance sur l'Europe" (CVCE) along with three other independent institutes, and additionally inaugurated the Robert Schuman Institute of European Affairs. The establishment of a third interdisciplinary research centre, the Luxembourg Centre for Contemporary and Digital History, was a further milestone.
Acting on the initiative of the Ministry of Higher Education, the university set the seal on further close collaboration for doctoral supervision with the country's public research centres. Mid-way through 2016, Yves Elsen, CEO of HITEC, left his post as Chair of the Luxembourg National Research Fund (FNR) to replace Marc Jaeger as Chairman of the University's Board of Governors. Marc Jaeger, who is also President of the General Court of the European Union, had decided to step down for personal reasons.
Student numbers remain stable at almost 6,200 with approximately 52% of students coming from abroad. With regards to teaching, the University started new courses including the "Master en Enseignement Secondaire" (Master in Secondary Education) as well as the "Master Theaterwissenschaft und Interkulturalität" (Master in Theatre Studies). Last autumn, the university also opened new student accommodation in the form of the Uni-Val II hall of residence in Belval, meaning that the university now has over one thousand accommodation units.
At the end of 2016, the university employed close to 1,700 people. After approval of the 2017 draft budget, the university's management and administration teams have been working intensively to prepare the winter semester and further develop administrative processes. The recruitment of a new President is also underway and a decision is expected in autumn.
Photo by University of Luxembourg