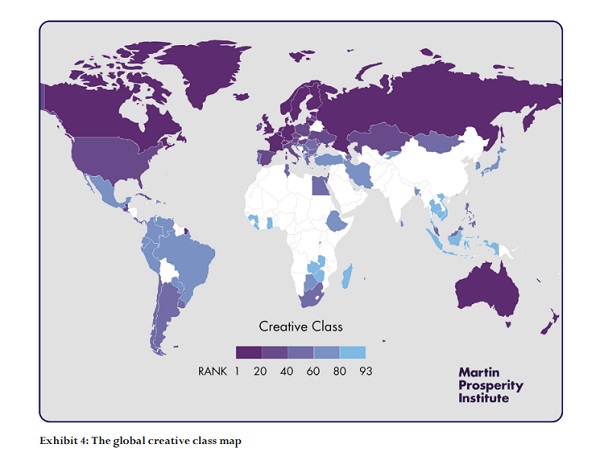 The 2015 edition of the Global Creativity Index (GCI) has found Luxembourg in the top spot worldwide in the Creative Class, with 54% of its workforce made up of this class.
The GCI, published by the Martin Prosperity Institute, is a measure drawing on the three indicators of talent, technology and tolerance to determine economic growth and sustainable prosperity. 139 nations across the globe were ranked, out of which Luxembourg ranked 25th overall with a Global Creativity Index of 0.696.
However, the Grand Duchy emerged in first place within the global creative class, which is comprised of workers in science and technology and engineering; arts, culture, entertainment and media; business and management; and education, healthcare and law. This class reveals significant variation around the world, making up 40% or more of the workforce in 18 nations globally, but constituting just 1% in others.
Luxembourg, with more than half of its workforce comprised of the creative class, was closely followed by Bermuda in second place with 48%; Singapore at 47% and Switzerland 47%. These last two are often found in a cluster with Luxembourg in global economic and financial rankings and indices, as was the case for the 2015 Prosperity Index.
A report published Wednesday by the World Economic Forum, citing a 1960s study by researcher and psychologist Frank X. Barron, revealed that creative people were found to be more independent and unconventional with a willingness to take risks and a high tolerance for complexity, ambiguity and disorder. Whilst a correlation was determined between creativity and psychopathology, creative people were conversely found to be more introspective, and thus demonstrate more self-awareness.
Graphy by Martin Prosperity Institute