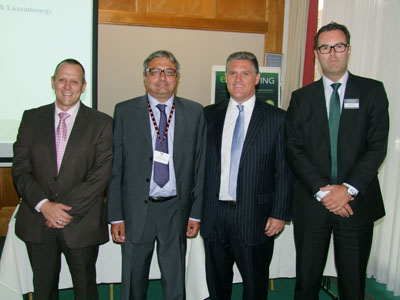 A retirement planning seminar was held at the NH Hotel this evening, organised by Dave Evans of Spectrum.
Michael Lohdi of Spectrum introduced the company which is registered and regualted in France, explaining that they have 45 advisors working out of 10 offices in 6 countries.
He outlined the company's independent financial planning services and how the advisors work with clients. He addressed the issue of QROPS (Qualifying Recognised Overseas Pension Schemes) and explained how Spectrum advised on the best way to move pensions, and other money too, especially when clients are expatriates and/or planning to retire outside the UK.
He finished off by mentioning the client charter which explains in detail the high standards how the company works with its clients.
David Matthews works at Skandia International, providing tax efficient investing for expatriates, and he then explained how they work with independent financial advisers such as Spectrum. Skandia is owned by the Old Mutual Group, established in the financial world for many years.
In broad terms, he explained, tax efficient investments can be achieved by excaping eligibility for certain taxes. As a result, the nett effect of the returns on those investments can be very attractive indeed.
Regarding Spain, Skandia have a product specifically designed for UK nationals intending to retire there, the Spanish Collective Investment Bond.
While the money remains invested, no tax is applied; it is simply deferred - he described this as a very attractive and significant benefit. Tax is only paid on a portion of the gain, i.e. 21% on the first 6,000 STG. As an example, a growth rate of 7% with a 5% withdrawl per annum, will result in a tax rate of 0.86% in year 1. Minimum investments are 25,000 STG.
Some of the benefits that could apply to Skandia's products, not just the one for Spain, include the benefit of tax deferral; also, if clients return to the UK during the period of the investment, it is fully tax compliant and means that tax deferrals still apply; non-resident relief takes into account the time spent outside the UK, therefore reducing the UK tax liability. Clients can also consolidate assets centrally in one investment area. A comprehensive case study then went through various technical areas in detail, such as gift trusts and assigned capital.
The last speaker was Mark Riggall, Head of International Strategic Alliances at J.P. Morgan Asset Management. He lloks after JOP Morgan's relationships with companies like Skandia and strategic partnerships with companies such as Spectrum. The company has been around for 150 years and helps clients ensure that their investments work better and for longer. He stressed that in planning retirment and pensions, the reality today is that the only person that you can rely upon is you, such has been the upheaval in the financial world and the state of pension funds - on both sides of the Atlantic.
In retirement planning, he said that UK statistics reveal that 22% of people continue to work after being able to retire, but not necessarily full-time.
He explained with the use of examples and visual graphs that the earlier one starts saving for retirement, the greater the "pot" will be upon retirement; this is due to the exponential growth having invested money continuously over a longer period of time.
He finished off by explaining how important it is to talk with financial advisors, such as Spectrum.
Photo by Geoff THOMPSON, (L-R): Dave Evans, Michael Lohdi, David Matthews, Mark Riggall.