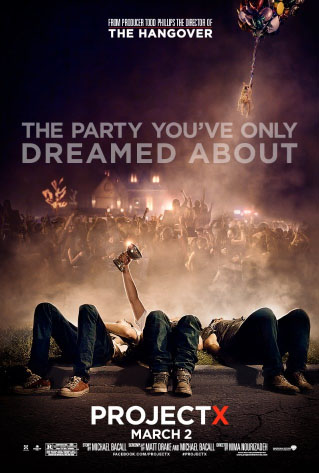 I saw Project X at the Orange Open Air Film Festival in Echternach on Saturday evening.
Directed by Nima Nourizadeh in his first feaure film, and starring Thomas Mann (a relative newcomer to the silver screen but who has been in great demand since this film), Oliver Cooper and Jonathan Daniel (both also relative newcomers), Project X tells the story of three high school kids who throw a party to try and get in with the cool crowd.
The story unfolds over a number of hours, with just the aftermath, the morning after, later in time. Thomas is celebrating his birthday but his parents, who celebrate their wedding anniversary on the same day, leave town to be by themselves. Costa comes up with the idea of holding a party at Thomas' house and with the help of JB, the three of them create an unimaginable monster. Word of the party goes viral and college kids arrive with drink and girls. The party gets completely out of control...
The cinematography is arguably the best point of the entire film, achieved like it was in The Blair Witch Project using hand-held cameras as if it was a school friend recording the events that were unfolding. But the storyline, based on a true event (in Australia), while fairly thin, included a number of side storylines that blended well into the overall scheme of things, including the Santa Claus (and knock-on effects to the flame-thrower), the intervention of neighbours and Thomas' father's car, and more.
A teenage film that has attracted huge numbers to the box office, partly due to the party theme, viral messaging, juvenile debauchery and anarchy. It is a good watch and includes quite a bit of profanity, with a number of incidents that wouldn't be out of place in a Jackass film. To be taken at face value. There is a message there, but probably few will get it. Even Thomas' father in the final scene did not covey his outrage and lack of responsibilty shown by Thomas, his friends and party-goers. Being popular and cool was the wrong message to convey in this way.