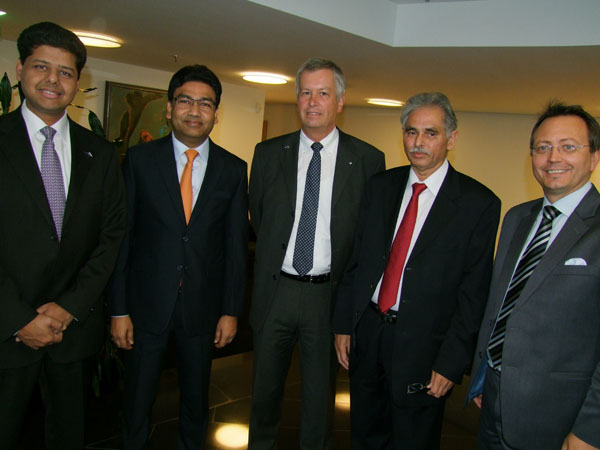 The Indian Business Chamber Luxembourg met at the Monterey agency of the BGL BNP Paribas this evening to addreess the issue of Recycling for a Sustainable Future.
Mr Leesch of ArcelorMittal talked about ferrous scrap recycling and introduced the topic by explaining the background of the steel industry which started as Luxembourg's natural resources contained a lot of iron ore containing phosporous, etc. A Luxembourgish entrepreneur developed a process based on inventions by a Briton and started to develop the mining industry here. A by-product of the mining was high-grade slag which was then used as fertiliser for the agriculture industry here, particularly in the north of the country. The main industrial centres were Shifflange, Differdange and Belval at which they operated blast funaces to process the mined ore - at its peak, 6,000 people worked at Belval for the mining industry here.
He explained that the electric blast furnaces here are now recycling iron products, from car parts, electrical appliances and much more. Cars have a life-cycle of 10 years, white goods for 10-15 years and buildings for 30 years, before they see them being broken down to be recycled.
However, the steel indstry cannot rely on scrap and must also pay close attention to metallic trace elements, etc. Scrap metal is graded according to its current state. He explained the processes used in Differdange, enabling it to export world-wide to the US an dSaudi Arabia, for example. An entire range of steel products is produced here in Luxembourg. The scrap market has become an international business with a 400% growth over the past twelve years.
Mr Surendra Borad is Chairman of the Plastics Division of the Bureau of International Recycling, and is also active in the plastics recycling industry as well as being active in philanthropy. He said the the topic of recycling is very interesting and is changing daily worldwide, increasing by 100 million USD daily - currently the worldwide recycling business is worth half a trillion USD, of which the US has about 90 billion dollars share. Europe is very strong in regulation compared to the US and other regions.
With 40% of the world's electricity coming from coal, the issue of ash is extremely important. Europe produces around 300 million tonnes of used tyres annually. As well as steel wires int he tyres, even the used tyre powder can be recycled. Food waste is another area of the recycling industry which can be converted into electricity. India is now a centre for processing electronic waste, including old television tubes. By 2050, 95% of each vehicle (by weight) needs to be recycled which leads manufacturers to use materials that can be recycled.
He said that while India is active in recycling, it has a long way to go. One of the restrictions has been that just 30 licences have been issued to import scrap for recycling.
Photo by Geoff THOMPSON: (L-R): vijay Goya, VP Flat Carbon Europe at ArcelorMittal & IBCL board member, Surendra Borad, Mr Leesch, Sudhir Kohli (IBCL Chairman), Pedro Castilho (IBCL, BGL BNP Paribas)