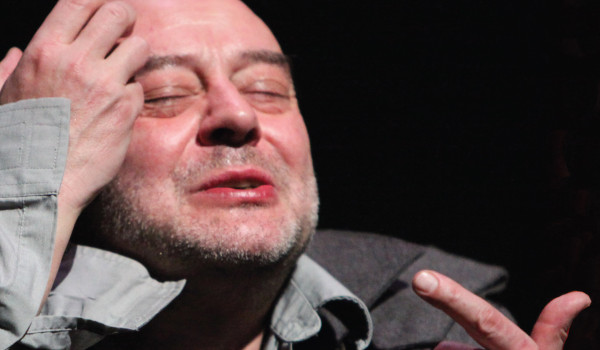 The Luxembourg Chronicle, in collaboration with Théâtre National du Luxembourg (TNL), is offering a pair of FREE tickets to the performance of Out in Africa at the TNL on Route de Longwy in Luxembourg-Belair on Monday 3 July 2017 at 20:00. For details on how to enter, see below.
The Théâtre National du Luxembourg, in co-production with the Fundamental Monodrama Festival and the Ruhrfestspiele Recklinghausen, is putting on a 3-performance production of "Out in Africa" by Mpumelelo Paul Grootboom.
With the World Premiere yesterday evening (27 June), the other two dates are this evening (Wednesday 28 June) and next Monday 3 July, at 20:00 each evening.
A cross between William Golding's Lord of the flies and Slawomir Mzorek's Out at Sea, this solo play portrays the story of four German tourists captured by Islamist rebels in an unnamed African country and locked up without any sustenance. The men are soon forced to confront their basic instincts when they realise that the only way to survive is to eat each other. At the hard end of this decision lies the difficulty to choose the sacrificial lamb(s). Thus begins a battle of the survival-of-the-fittest that turns into a microcosm for larger political issues.
The macabre events in "Out in Africa" are told and enacted with both horror and sharp humour by the only survivor, a German lawyer named Heiner Kochesser. The play, told with an evocative African soundscape, is a satire on Eurocentrism and how Africa is often "problematised" in Western eyes.
The play, performed and produced by acclaimed Luxembourg actor Steven Karier, is written and directed by acquainted South African theatre-maker Mpumelelo Paul Grootboom who works for the first time in Europe.
IN ENGLISH
Text & Director: Mpumelelo Paul Grootboom
Stage- and Costumedesign: Katrin Kersten
Dramaturgy and production: Rolf C. Hemke
With: Steve Karier
Tickets cost €20 from www.tnl.lu
To apply for your FREE tickets to see Out in Africa at the TNL on 3 July, please send an email to info@Chronicle.lu with "TNL: Out in Africa" in the subject line (without the quotation marks), with your name and mobile number in the body of the email. The draw will be made at 12:00 on Friday 30 June. Winners will be contacted directly. Winning tickets will be available at the venue on the day.
Winner: Jill Gallagher