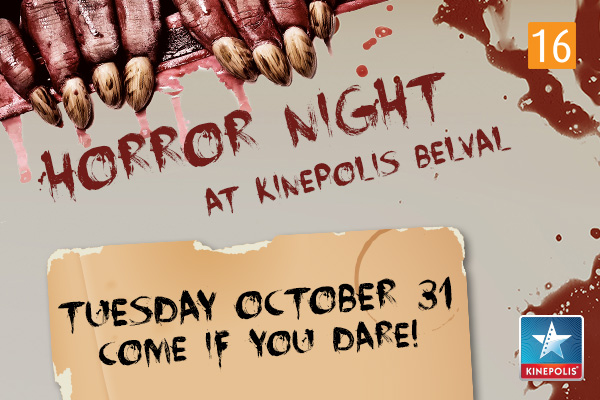 Chronicle.lu, in collaboration with Kinepolis Luxembourg, are offering FREE pairs of tickets to one of the 2 timings of a Horror Night on Tuesday 31 October 2017, in Kinepolis Belval.
To win your FREE tickets, see below.
T special Horror Night includes the screening of two (Avant-premiere) horror films. The venue will be decorated especially for the occasion. There will be two separate events, with those interested in choosing which time suits them best, with multiple screening rooms used for the event which will take over the entire cinema.
Synopses:
- The Vault, by Dan Bush and starring James Franco, Taryn Manning, Francesca Eastwood: Two estranged sisters are forced to rob a bank in order to save their brother. But this is no ordinary bank.
- Jigsaw, by Michael Spierig & Peter Spierig and starring Laura Vandervoort, Tobin Bell, Hannah Emily Anderson: Bodies are turning up around the city, each having met a uniquely gruesome demise. As the investigation proceeds, evidence points to one suspect: John Kramer, the man known as Jigsaw, who has been dead for ten years.
19:30 - 20.30: Afterwork
20:30: Avant-premiere The Vault

22:00: Pause
22:30: Avant-premiere Jigsaw
OR
21:00 - 22.00: Afterwork
22:00: Avant-premiere The Vault
23:30: Pause
00:00: Avant-premiere Jigsaw
Tickets €21 (€19 reduced) - No admission to U16s - from https://kinepolisluxembourg.lu or at the cinema.
To apply for your FREE tickets to Horror Night on Tuesday 31 October 2017, please enter below (requires registration & log-in). Please enter your gsm/mobile telephone number and state which performance you would prefer to attend.
The draw will be made at 13:00 on Wednesday 25 October 2017. Winners will be contacted directly. Winning tickets will be available at the venue on the day.