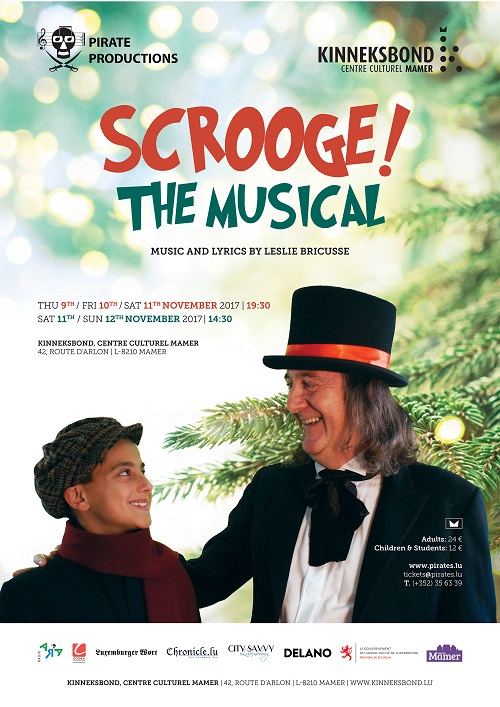 Chronicle.lu, in collaboration with Pirate Productions, are offering a FREE pair of tickets to one of the 5 performances of a stage production of "Scrooge! the Musical", a co-production with Kinneksbond, from 9-12 November at the Kinneksbond cultural centre in Mamer; to win your FREE tickets, see below.
This is the perfect show to bring all the family. Pirates guarantee you will come away singing the tunes and be in the right mood to celebrate your own family Christmas!
Scrooge! is a musical version of Charles Dickens' A Christmas Carol with music and lyrics by Leslie Briccusse.
Performances
Thu 9 Nov 2017 @ 19:30
Fri 10 Nov 2017 @ 19:30
Sat 11 Nov 2017 @ 14:30
Sat 11 Nov 2017 @ 19:30
Sun 12 Nov 2017 @ 14:30
Tickets (Adults €24, Children and Students €12) are now on sale online at www.pirates.lu or email: tickets@pirates.lu or tel: 356339
To apply for your FREE tickets to Scrooge! the Musical from 9-12 November 2017, please enter below (requires registration & log-in). Please enter your gsm/mobile telephone number and state which performance you would prefer to attend.
The draw will be made at 13:00 on Monday 6 November. Winners will be contacted directly. Winning tickets will be available at the venue on the day.