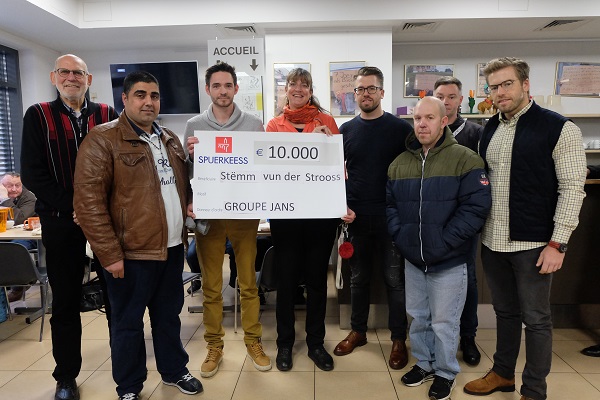 On the occasion of handing over a cheque with a value of €10,000, Marc and Steve Jans, directors of the construction group Jans, and their collaborator Gilles Schaus, visited the Schweesdrëps vocational rehabilitation workshops and Stëmm Caddy, as well as the social restaurants in Esch-sur-Alzette and Hollerich.
The group plans to support the new Caddy 2/Schwessdrëps project by providing a free team of workers. Alexandra Oxacelay, director of Stëmm vun der Strooss, said: "This project would provide support for the professional reintegration of a further 90 people and increase the annual recovery of food waste from 108 to 500 tonnes. But to achieve it, the Stëmm vun der Strooss is looking for funds."
There are currently 30 people undergoing professional reintegration being supervised at the Schweesdrëps workshop located in Esch-sur-Alzette. The Stëmm Caddy workshop in Hollerich employs 20 people.
The President of Stëmm vun der Strooss, Marcel Detaille, stated "Developing the production and distribution of food packs would meet the increase in demands of people in need."​