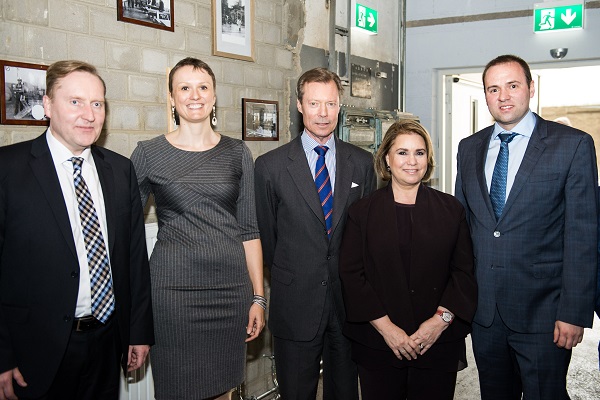 The 6Zero1 incubator of social entrpreneurs has been formally inaugurated by Grand-Duke Henri and Grand-Duchess Maria Teresa.
The initiative was opened in Differdange last July under the management of Gontran Poirot - see www.chronicle.lu/categoriesbusinessinnovation/item/17906-6zero1-incubator-for-social-entrepreneurs-opens-in-differdange; almost one hundred people were present for its formal inauguration, including Grand-Duke Henri, Grand-Duchess Maria Teresa and Minister of Labour, Nicolas Schmit and representatives of the Chambre de Commerce and the Chambre des Métiers.
The Grand-Duchesse and shareholders of 6zero1 made speeches about social entrepreneurship and how important is the creation of such a place as 6zero1 to help people develop social enterprises.
6Zero1 can be found at 115a rue Émile Mark in Differdange.
Photo (L-R): Guy Schmit, Nadine Muller, Grand-Duke Henri, Grand-Duchess Maria Teresa, Jean-Christophe Burkel