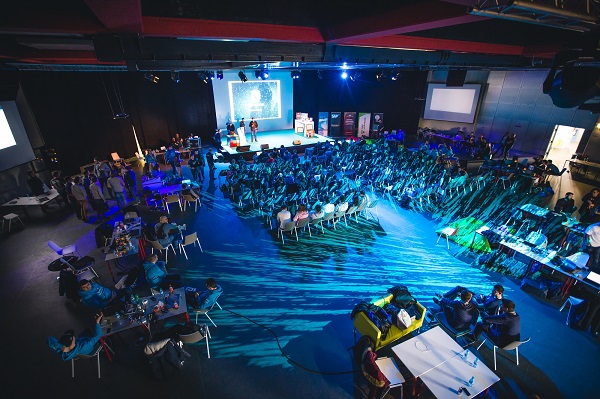 Details:
Docler Holding has announced the 3rd edition of Game of Code and the first ever LuxGameFest, both taking place at the Forum Geesseknäppchen on 16 and 17 March 2018, from 1000 both days a must-go event dedicated to gamers and code rooters ready to enroll 24 hours of challenge.
"It is essential for us to keep promoting such initiatives and bring them one step further thanks to the support of various partners. The launch of a gaming and LAN competition, LuxGameFest, is fully part of our DNA as we even have been developing these initiatives internally", said Marton Fulop from Docler Holding.
Two events in one!
Docler Holding, in partnership with ITOne, has announced a new edition of the Game of Code (www.gameofcode.eu), a Hackathon "Made in Luxembourg", for the third year in a row.
And, for the very first time, the company will also be organising the country's first national LAN PARTY, the LuxGameFest (www.luxgamefest.com), in collaboration with 11F Gaming, Luxembourg Gaming Experience (LGX)/Saturn.
Game of Code
As every year, developers and graphic designers will have the choice between two challenges
• The first one, designed by Docler Holding, will revolve around the theme of Machine Learning.
• The second one, proposed by Digital Lëtzebuerg, will be about Open Data.
Last year, the 24-hour hackathon brought together more than 150 developers and graphic designers spread across 33 teams. Team and individual registrations are already open - see www.gameofcode.eu/#register
LuxGameFest, powered by Luxembourg Gaming Experience (LGX) and 11F Gaming
For the first time, a LAN Party will take place in Luxembourg at the same time as Game of Code.
The LGX LAN Party is an event that brings people together to play video games using a local network for 30 hours. The players bring their own computer equipment (PCs or consoles) and their games. For their part, the organisers provide the room, as well as the management of the network. Places are limited. Registrations are open at https//www.toornament.com/tournaments/1123345603347398656/information
The LGX Call of Duty WWII finals will also take place on the main stage of the event on Saturday 17 March from 1600. The qualification matches for this tournament will be played online and will start on 25 February 2018. Registrations for the first round of qualifiers are open on https//www.toornament.com/tournaments/1103278296798060544/information
The Prize-pool "Saturn" vouchers worth €3,200.
As an extra gaming and fun experience, Docler Holding proposes all gamers to participate in a friendly Hearthstone tournament at its booth from 1100 on Saturday 17 March. This event is free; however, registration is mandatory - see https//tinyurl.com/y96oocyr
Venue: Forum Geesseknäppchen
Organiser: Docler Holding
Price: n/a
Reservations: see websites
URL: For details, see For further information and registration, see www.gameofcode.eu and/or http://luxgamefest.com