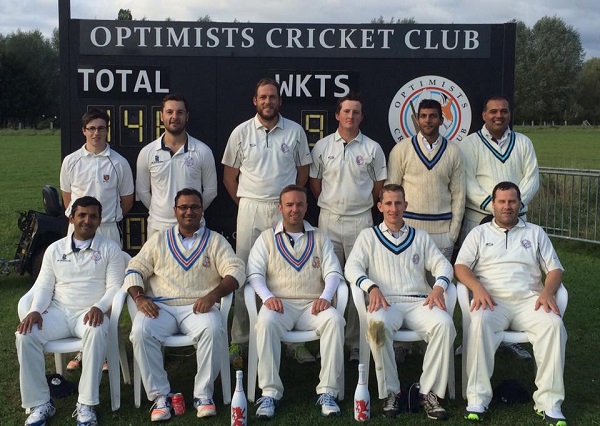 After nine matches, it all came down to the final match of the league season for the Optimists Cricket Club 1st XI in the Belgian Cricket Federation Division 2 league.
In a title-deciding encounte,r the Optimists played hosts to second placed Royal Brussels Cricket Club, knowing that a win would guarantee them the title for the third year in a row. This was by no means a straightforward ask, as the earlier away fixture had resulted in a heavy defeat for the Optimists. Nevertheless, after four straight wins, the Optimists were confident that one final decent display would seal the title.
Captain Richard Neale won the toss and, as has been the case for the majority of games this season, elected to bat in the hope that his strong batting line up would do what it does best and post a large score. Things did not start well however, with Ben Embleton out to a good catch at the end of the first over. James Barker and Richard set about building the innings and, despite accurate bowling, the score increased slowly but steadily.
As the opening bowlers were taken off, the runs started to come more frequently and both batsmen started to score more freely. After a partnership of 116, Richard was eventually bowled for a typically elegant, well-paced 68, with the score on 117 off 22.3 overs. Vikram Vijh was next in and looking to continue his good run of form. As Vikram settled, James continued to up his scoring rate and put away any bad balls, allowing the score to continue rising. Vikram was playing his natural game, with the score passing the 200 mark in the 35th over. James was by now playing with such confidence that shots of all sorts were being unleased, of particular note were a number of scoops and pulls.
Shortly after, the 100 partnership was reached, the second of the innings. This was eventually broken in the 38th over when Vikram departed for a controlled 51. In the push for quick runs, Timothy Barker and Tony Whiteman both departed cheaply before James was eventually out for a wonderful 91. A good partnership and some quick running between Joost Mees (20 not out) and Aanand Pandey (16) pushed the score up to an imposing 290, a total that would require a serious effort to chase.
After a curry lunch, the focus turned to taking the 10 wickets that would guarantee winning the league. Atif Kamal opened the bowling and immediately looked a handful, with one ball taking the edge of ex-Zimbabwe international Brighton Watambwa, but unfortunately going to ground. Nevertheless, Atif made him one of his two wickets in his next over, courtesy of a catch behind by wicketkeeper Joost Mees.
Yatin Bhamare was proving a handful at the other end, the opposition batsmen finding his swing practically impossible to play. A couple of overs later Atif then had one of the league's leading scorers caught to take his number of victims to three and reduce the opposition to a struggling 14-3 off 6.4 overs. Wickets continued to fall as the pressure mounted, with two more catches for Joost giving Atif a well-deserved 5-for.
A particularly eventful over from Christopher Fry, one that contained two high no-balls, a couple of boundaries, some free hits and a wicket, provided entertainment though no real progress from the opposition as runs proved extremely hard to come by. When RBCC's other leading run scorer was dismissed for 45 by Aanand Pandey, any possibility of an upset was destroyed and it was only a matter of time before the final few wickets would fall. One more for Aanand, one for Atif and one for Tony meant that the Optimists registered an extremely convincing victory by 142 runs and with it the title!
It was a comprehensive victory with good batting, excellent bowling and a good fielding effort, during which there were nine catches.
With this victory the season is now over for the Optimists 1st XI. It has been a particularly successful one again, with 8 wins and 2 losses, many of these wins by considerable margins. Unfortunately the league rules mean that promotion is not possible; however, next season will provide new challenges in the form of new teams in the league and the possible creation of a Optimists CC 2nd XI, such is the demand for competitive cricket. For now though, players can look forward to the Luxembourg Cricket Federation's indoor league competition and the remaining friendly matches in September.