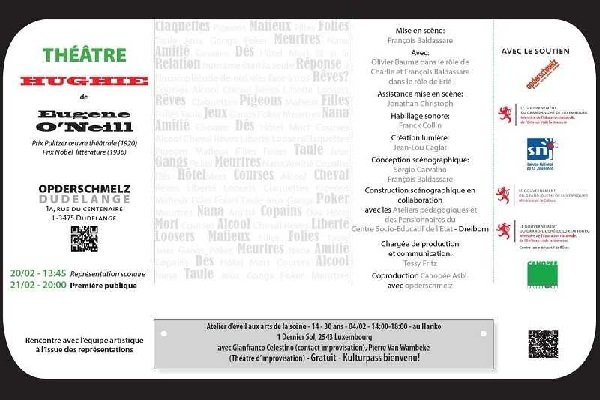 Details:
Performances of the theatrical adaptation of Eugene O'Neill's "Hughie", directed by François Baldassare, are scheduled for 20 and 21 February 2018 at Opderschmelz, Dudelange.
Canopée Produktion asbl has invited the public to discover the first ever stage direction of author Eugene O'Neill's "Hughie" (Pulitzer Theatrical Award 1920, Nobel Prize for Literature 1936), a story about the incompleteness of our lives in the face of our dreams and the human relationship as the only answer.
The theatrical project was co-produced by Tokyo-based musician-composer Franck Collin, who was the first artist-in-residence at Canopée Produktion, and was carried out in collaboration with the State Socio-Educational Centre, Dreiborn, which constructed the main scenery for the play. The project also foresaw four practical stage awareness sessions for participants aged 14 to 30 (Dreiborn, Lycée Nic Biever Dudelange, Hariko (4/2)).
A performance for high school students from Luxembourg and Lorraine will be held on 20 February, whilst the public premiere will take place on 21 February at the Opderschmelz cultural centre in Dudelange.
Whilst the original was in English, this production is in French.
Venue: Opderschmelz, Dudelange
Organiser: Canopée Produktion
Price: Adolescents: presale €5 (+ fees), on the night €7; adults: presale €20 (+ fees), on the night €25; free for Kulturpass holders
Reservations: http://www.opderschmelz.lu/#agenda/1340_1023